Jefferson 'Soapy' Smith was one of America's most infamous bunco men (or confidence men) and ruled over the largest criminal syndicate in Alaska during the 19th century.
What was Soapy Smith's origin?
Jefferson Randolph Smith II, born in Georgia on November 2, 1860, got his start in crime at a young age, mostly with small-time cons like three-card Monte and the shell game. While he moved around a lot in his youth, by the age of 18 he had established himself as a full-fledged gangster and, shortly after arriving in Fort Worth, Texas, in 1878, arranged a group of swindlers known as the 'Soap Gang.'
Soapy Smith and the Soap Gang, 1897
'Soapy' Smith earned his nickname from one of his early cons, which involved selling bars of soap. He would attract a crowd around his table and exhibit his arrangement of wrapped soap bars. After that, he would reveal his game. He would wrap some bars of soap with one-dollar bills, and then he would wrap one in a one-hundred-dollar bill. Finally, he would wrap all the bars in plain paper and mix all money wrapped soap bars together with ordinary bars of soap. 'Soapy' would plant fellow con men in the crowd who would boisterously celebrate after picking the right soap bar and 'winning' the game. However, the catch was that through the use of sleight-of-hand he was able to ensure that no one ever legitimately won any money.
Moving again, Smith found himself in Denver where he quickly used his swath of cons and loyal gang members to garner money and power. He promptly used this money and power to pay-off politicians and police officers and purchase land for him to set up saloons and other buildings to house his illegal activities. 'Soapy' soon had the entire city under his thumb and continued to rule over Denver's gangland for roughly a decade.
Smith's parlor in Skagway, 1898
His control lasted until 1896 when he fled the city after attempting to murder a fellow saloon owner during a bar squabble. His path led him to Alaska which was experiencing the Klondike Gold Rush. Smith decided on using 'the last frontier' as the location for his next criminal empire.
What was Soapy Smith best known for?
'Soapy' is probably best remembered as the ruler of his Alaskan criminal syndicate, which he set up in Skagway (then called Skaguay). Not long after his arrival, he set up a saloon and again bribed the local Marshall in order to get back to business as usual. He quickly anointed himself the boss of the city. His hoodwinks continued and gained even higher success than before. The great thing about Skagway was its location. It was directly on the trail that thousands of travelers used to migrate to the gold out in Klondike. Additionally, due to the urgency that the wayfarers felt to stake their land, they were easy targets for scams. Many men that went through Skagway who became victims to Smith's deceit had to quickly accept their losses and move on the next morning as to not miss out on the riches of the gold rush. Those that protested the scam and sought justice were met with apathy from the US Marshall that Smith had already bribed.
What was the Shootout on Juneau Wharf?
On the night of July 8, 1898, 'Soapy' witnessed a man on Juneau Wharf that appeared to be trespassing. He confronted the man, later discovered to be named Frank Reid, and threatened him with a .38 Smith & Wesson. After the man did not leave 'Soapy' pointed his firearm to shoot but the gun was diverted and the two started to scuffle. Conflicting sources exist on what happened next.
Skagway newspaper announcing Smith's death, 1898
The most circulated story is that during the struggle Frank Reid pulled out a revolver that he used to shoot and kill Smith. However, there is also evidence to corroborate a second story, which asserts that a man named Murphy joined the struggle and seized Smith's gun which he used to shoot and kill Smith.
Post-mortem examination of Smith's body
Both Smith and Reid died as a result of the struggle, with Smith dying instantly and Reid dying soon after due to the two bullet wounds that he received. During an autopsy of his body, 'Soapy' was found to have three bullet wounds, with the one in his heart being what ultimately killed him.
What is the legacy of Soapy Smith?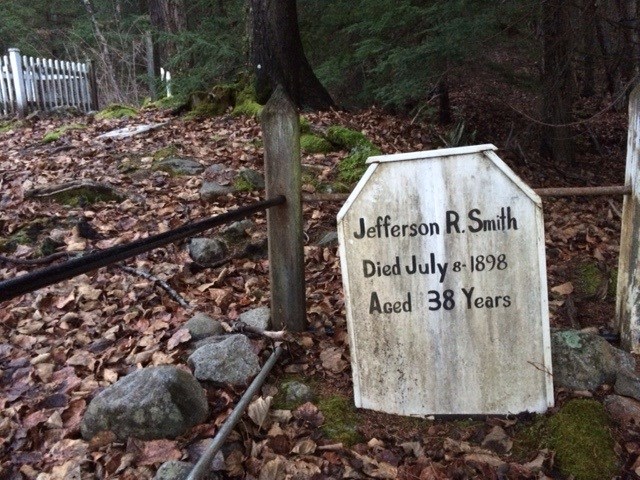 Soapy Smith's gravestone
While he is best known as 'Alaska's Outlaw,' Smith is also recognized as a community leader. He assisted widows and those that were down on their luck, bolstered support for the regional hospital, and served as a captain in the Skagway Military Company. He is a shining example of the duality of man. His influence is still seen today. Tours of his parlor in Skagway, which has since been converted into a museum in his dedication, are frequently given to the public to preserve his memory.